When the pandemic hit, companies already well on the path to digitization had the capabilities in place to quickly pivot, innovate and iterate, enabling them to compress their business transformations from years to months when forced to migrate most of their business online. This context drives the demand to build design and innovation capability to accelerate transformation on purpose.
War for Design and Innovation Talent Rages On
Just when we couldn't imagine how the demand for design could become more acute, it did. The pandemic fueled the need to scale design, along with digital and data capabilities overnight. It forced companies to rethink and retool their people strategies, hiring plans, and talent profiles for greater emphasis on the attitudes and aptitudes, as well as the skills required to accelerate organizational change while optimizing processes and shaping new ecosystems of digital products and customer experiences.
More organizations than ever are investing to scale their capabilities and are in fierce competition with you for this talent. Especially in these times when the norms of our society, work, and personal lives have changed so radically, having something more to offer that is meaningful is table stakes just to get you in the game. That more is Purpose. At Vee, we combine a unique people and data science powered methodology with our deep subject matter expertise, executive search & recruitment, brand, org development, strategy and ops consulting, and industry experience to help you define, align around, and activate your purpose. Then we leverage it to recruit, engage and close the most sought-after diverse talent that's right for your organization as we have for clients including 3M, Allstate, American Express, BMW, Box, HP, Lowe's, McDonald's, Microsoft, NASA, NFL Properties, Nissan, Pepsico, and P&G.
Future of Mobility a Microcosm for High Demand Talent
In the past year of unprecedented upheaval and uncertainty, we had the opportunity to partner with a leading mobility player to build their Innovation & Design capability globally. The impact of this legacy auto company's industry, size, and culture, combined with the nature of their pivot and scale of their transformation, gave us unparalleled insights into the demand and supply sides of the talent market overall. The greatest needs continue to be for leadership talent and teams across Design Research, Strategy, Innovation and Business Design; Experience, Brand, Digital, Product, UX-UI, Interaction, and Service Design; HUD, Customer/Passenger Experience, Design Ops, Design Thinking, Learning & Development, Evangelism & Training, and People & Culture Experience, to design with and for emerging technologies and innovate, bring to life and scale ecosystems of next-gen, digital-first and physical-digital brands, products, EV, AV and connected (vehicle) product, service and AI platforms, and experiences for employees, consumers, commercial and enterprise customers.
The Purpose Imperative
At the same time, Purpose became an absolute corporate imperative to guide strategies, actions, and behaviors that increase focus on and commitments to Diversity & Inclusion, Sustainability, and Social Impact. The graph below from McKinsey's January 11 article on Organizing for the (winner-takes-all) future shows results from a survey sent to the top three US companies in ten different industries about where they're considering making the boldest moves. Eighty-three percent (83%) indicated that Purpose was one of their 9 organizational imperatives.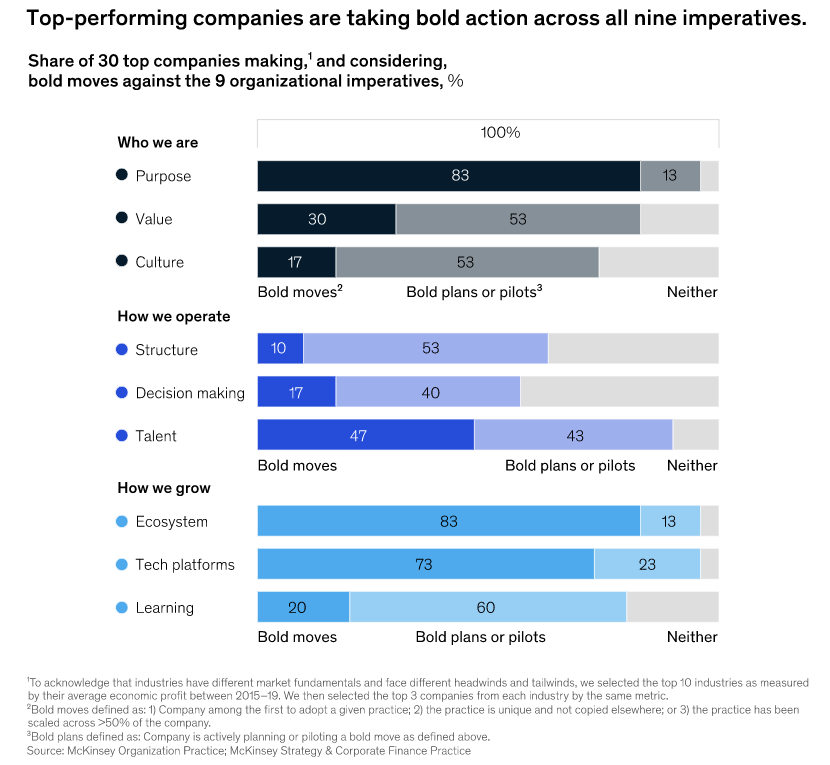 Design as Transformation Accelerator
As core strategic organizational capability, integrator, change driver, innovation, and optimization multiplier, Design has the unique ability to drive the development, integration, and adoption of all of the above and to accelerate customer-centric and agile, as well as digital business transformation.
Scale Your Business with Vee!